BerkeleyTravel
3 Dune Drive · Bayville, NJ 08721 · (732) 505-9600
Thank you for visiting our home page.
With 34 years experience Berkeley Travel can provide endless suggestions for your dream vacation!!
Before you pack please visit the Travel Guidelines and Safety section
Help protect your trip. Click below to purchase Travel Protection!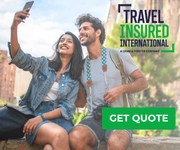 Try Out Our Self Service Booking Systems!!
Book a Cruise NOW!!!
Schedule Your Dream Vacation!!!
You Can Also Visit Us at: